How We Got Here & Why
It all started (in Rota, May '95) with unemployment. Not the unemployment office, nor the unemployment check, just a general lack of work and severe shortage of income.
Manoli was working 12 hours a day as a cosmetologist and I had just managed to get sh#t-canned (for philosophical differences!) from my latest restaurant gig and was playing bass and singing in a part-time band called the Heavers. What's an immigrant to do? Why, go $50,000 into debt, what else?!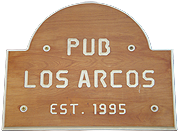 Well, 6 ½ months and a whole lotta help later, on Friday, 1DEC95, we opened the doors, took a deep breath, and went to work. Thanks to the hundreds upon hundreds of great people who've walked in over the years, we're still going to work…
Thanks again,
Chris