We regularly host promo parties, usually based on a specific product such as Jagermeister, Bacardi, etc…
These normally occur about once a month +/- and involve swag (t-shirts, hats, knapsacks, and other goofy party s**t) given to customers by a pr rep(s) and/or the bar staff. Impromptu swap meets tend to start shortly there after.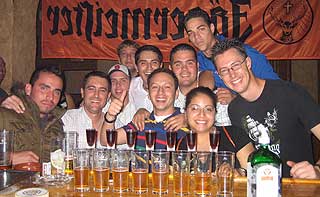 We've had the pleasure of having had many special events take place at the pub over the years including birthdays, wedding after parties, promotions, re-enlistments, and hails & farewells.
We also celebrate Halloween, the New year, Carnival, and St. Patrick's day every year.

Live music happens occasionally (usually on a saturday night) and generally is rock / blues based, although not exclusively. There is no cover charge.
If you would like to plan an event with us, pls drop by or call 956-841561.