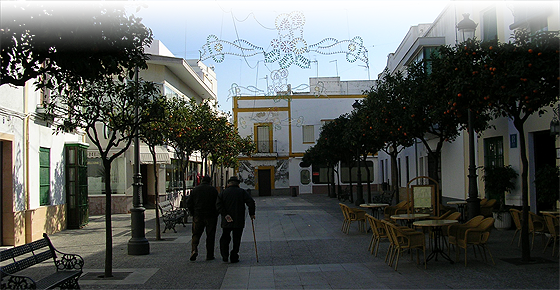 Founded circa 1000 BC; populated by pheonicians, romans, visigoths, moors, and spaniards (among others).
Current population about 35000, but swells to about 80000 in July & August.
Climate: hot, dry summers; cool winters with some rain and wind; almost never freezes (and then only for an hour or two during early morning once or twice a year)
Tourism: beach, golf, horses, boating, fishing, wind & kite surfing, other water sports; points of interest include the Castle of the Moon, Nuestra Señora de la O Church, the beach walkway and trails through the dunes and pine forest reserve area, los corrales (a system of ancient stone walls built along the beach below the high-tide line, used for trapping seafood and small fish).
At one time, Rota held the (unofficial) world record for having the most holidays observed by a town. Here are some of the most prominent:

Three Kings Day / Epiphany (5/6 Jan);
Carnival (late Feb/early Mar);
Holy Week & Easter (late Mar/Apr);
Spring Fair (late Apr/early May);
St. John's Day/Summer solstice (24 Jun);
Fish Fair (early Aug);
Navidad (24Dec ~6Jan) including Noche Vieja (New Year's Eve)

Most businesses are open Mon~fri, 09:00~14:00 and then 17:00~20:00, and Sat 09:00~14:00; supermarkets from 09:00~21:00, Mon~Sat. Banks are open Mon~Fri, 08:00~14:00 only. Cafes are open from early morning till around midnight. Restaurants serve lunch from as early as 13:00 until around 16:00, and dinner from around 20:00 until as late as midnight. Bars, pubs, and clubs open as early as late afternoon and close as late as early morning. Times may vary depending on the season and day of the week. Also, many restaurants, bars, and pubs close on Mon or Tue. Clubs normally open only on weekends, except during the summer, when they're usually open 6 or 7 days a week.
From Rota you can drive within 30 +/- minutes to Chipiona, Canlucar, El Puerto de St. Maria, Jerez de la Frontera, and Cádiz or, within 90+/- minutes, to Gibraltar, Sevilla, the white villages and sierras (Arcos, Ubrique, Zahara, Grazalema, Ronda, etc…) and Tarifa, or, within 3 hours +/-, to Córdoba, Granada, Málaga, Huelva, and the portuguese border.


Madrid is about a 5 hour drive, Lisbon about 6. Tangiers, Morocco is about 100km (62 miles), and can be reached by ferry from Tarifa or Algeciras. The nearest train station is in El Puerto de St. María and the nearest airport is in Jerez. Taxis (tel: 956-840085) operate 24/7 and have access to the naval base.
NOTE: All of the above is general information based on personal experience and is not to be considered complete or comprehensive. For further information go to http://www.turismorota.com